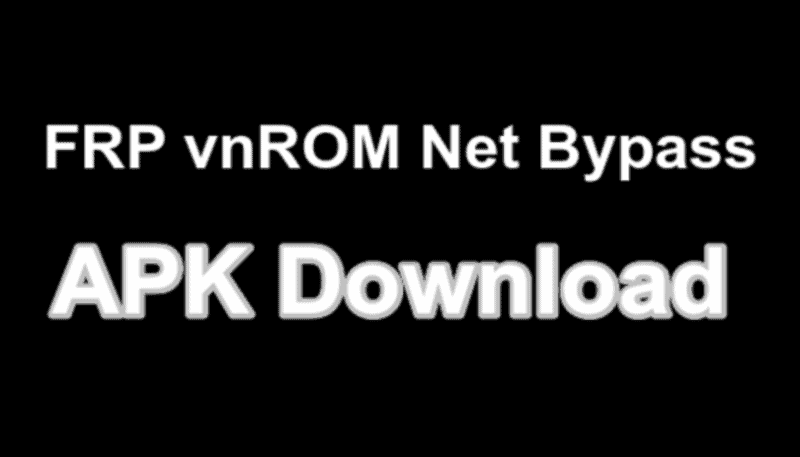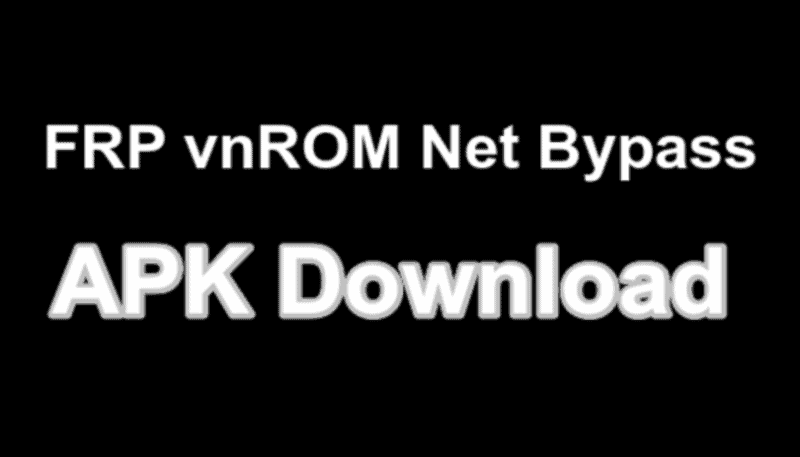 FRP vnROM Net bypass APK is made to bypass all google accounts. If you need a tool that can bypass all the google account from your path then you are at the right place. All the FRP tools are checked and updated just to bypass all the google verification steps.
As sometimes we get irritated by the verification steps and google account logins, so we need a quick login or sometimes we don't want to share our information everywhere. So, we need the FRP vnROM net bypass app to solve this problem. FRP bypass is the best tool that you can use to skip google factory reset security. In some cases, you forget the password, or sometimes the username, at that stage this app can assist you.
Google Factory Reset Protection is the security model that helps you when your device loses, it provides you the next level of security.
What is FRP VnRom Net Bypass APK?
VnRom is a platform that helps you to bypass accounts so that you don't need to fill in any kind of I'd or password. This basically works when you forget the password to which your device is registered. This app is easy to use you just need to download the app on your device and install it. When the app gets installed then you have to Factory reset the Device to remove all the log-in processes.
Also, check and download Mega Personal Dating App APK.
The app contains lots of features, I will explain to you each features one by one. Follow the features and you will get to know everything about the app. Let's begin with the features below:
Features of FRP vnROM Net bypass APK:
FRP vnROM Net bypass is user-friendly and easy to use. The user doesn't need some technical knowledge to use it. He/She can use it just by having some basic knowledge.
Using this app you can get rid of all the google lock in your smartphones in a few minutes.
You can use this App on any device and it is easy to use.
You can remove any account lock by this app. Get the APK, install it and start using it. FRP vnROM Net bypass tool does not use any additional tool, it alone works fine.
FRP vnROM Net bypass APK Features in Detail:
User-Friendly:
The app is user-friendly. You can use it without learning any typical thing or you can say that it does not require any technical terms or things to work with it. The app is very easy to use. You can bypass lots of accounts by using it.
Get rid of locks:
Using this app you can easily get away from Locks set by Google in just a few minutes.
Safe and Secure:
The app is fully safe and secure. You can use this app without facing any problems. The app does not have any viruses or malware.
Bypass any Account:
You can bypass any account by using this app. This app helps you to bypass accounts in different apps set up by Google or any other platform. You can directly access the app without any login details.
Light-weight:
The app is small in size and works fine on every device like on different android devices. It also does not takes much space on your device so you don't have to take tension about your mobile storage.
Nice Interface:
FRP vnROM Net Bypass APK has a nice and smooth interface. You will surely like this app. Also, you will not face any problems while using the app.
Supports Multiple Device:
The app supports multiple devices. You will be able to bypass any android device. As you will see that most of the apps are just supporting a single device but this app works on every device.
24×7 Support:
The app gives 24×7 supports to users all for free. If you get stuck anywhere or if you face any problem in Bypass then you can contact them, they will provide you the solution for your queries 24×7. Feel free to contact them as the team is sitting on the other side just for you.
Free of Cost:
The app is free to use and they will not charge you any amount for using this app. Simply install the app and start using it.
Very Powerful:
The app is very powerful and works very well with your device. You can use this app very easily and it will do its job very nicely. The developers of this app really working hard to give you a better experience.
Simple to Use:
The app is so simple to use you will not face any type of problem while using it. If you still face any problem then you can contact them without any hesitation. Rest you will surely like the app.
Install and download easily:
You can download and install the app very easily. In a few steps only the app will start working. You can now bypass your mobile phone as the app will be ready to use.
Completely ad free:
This app does not contain any kind of ads. The developer of the app has never placed ads on their app. You will get a great experience while using this app. As we know that the ads always annoy us, so we always get irritated with them. So an ad-free environment is always good for you.
How to Setup FRP vnROM Net bypass APK?
Initially, download FRP vnROM Net bypass apk newest version from our site.
If you're a newcomer to the procedure, you need to allow anonymous sources through your preferences. To empower anonymous resources, go to settings > safety and click to empower unidentified sources option.
Then, wait a couple of seconds for the installation to finish.
Once the setup is done, you may now have access to a device's preferences menu.
open the settings and choose the rear and refresh option.
Click here on mill data choice and click on reset apparatus or delete.
The aforementioned measure will delete your files, configurations, system and program information, and other information with your Google account.
restart your device and reboot it to use it for refreshing.
HOW TO DOWNLOAD AND INSTALL APK FILE? (FRP vnROM Net bypass APK)
First, you have to discover an APK file you want. Search online for an APK document and download it into an easy-to-find location on your computer (such as your desktop).
Before you can install it on your phone you will want to make certain third-party apps are enabled on your apparatus.
Visit Menu > Settings > Security > and assess Unknown Sources to Permit your phone to install programs from resources Apart from the Google Play Store.
Newer versions of Android do things somewhat differently. Prompted to allow your browser or file manager to install APKs the first time you attempt to do so As opposed to check a global setting to allow installation from sources.
How To Download and Install FRP vnROM Net bypass free download for pc full version or Windows Devices?
You can also use Android apps on your PC by simply installing a PC emulator. The best Emulator Known by everyone is BlueStacks.
First of all, you have to download the BlueStacks app on your PC or any Windows device.
After installing the app of blueStacks register in it. After completing all the process search for FRP vnROM Net bypass in it.
You will get the list of APKs available on your device screen.
Install the app with the help of blue stacks and enjoy using it. These Emulators helps you to use mobile apps on a PC.
Now, you got to know that you can download and use this app on Android devices and Windows devices. You cannot use this app on IOS devices. The developers still have not generated the IOS version of the app. Don't worry about that you definitely got many other alternatives in IOS so go for them.
How to download and install the FRP vnROM Net bypass APK For Android?
First of all search the APK file FRP vnROM Net Bypass APK you want to install. You can search for it on the web and download it.
If you want to install the APK file on your device, the device should allow the third-party app to install it.
Secondly, If you want to allow the third-party app to install on your device. Go to the Menu->Settings->Security and Check Unknown Source. By checking it your device will now allow you to install third-party apps.
Last, install the APK file on your device and you are ready to go.
How do I bypass FRP in VnRom?
You can easily perform the task by following the steps given in the above article. Everything is mentioned step by step. You can follow the steps one by one and do the task easily.
What is the use of FRP bypass APK?
This tool is very good to use as it helps you to bypass the Google accounts and its protection. Sometimes we forget our login credentials and we need some other way to get into our device. So at that time, we can use this app to bypass the login page so that you can directly access your device. These types of apps are very useful in these situations.
Can a Google lock Phone be Unlocked?
Yes, you can unlock a Google-locked phone very easily. Read the above paragraphs and you will get to know each and everything. Every step is written in a very easy way so that you can easily learn them.
Vnrom Bypass:
People search for this app with different names. This app is termed with different names and people use different names when they search it on google. Sometimes they end up downloading some fake or other bypass tools other than Vnrom. If you are a true fan of Vnrom then keep in mind that download this app from some good websites only that provide genuine apps. You can download this app from our website. We always check for all the APK files before uploading them to our website. We search for viruses and malware on every single app. Also, we take care of every aspect from our side. This website only has genuine APKs. Feel free to download the APK file on your device without worrying about anything. Vnrom is small in size and works very well on every device.
It supports mainly all the android devices in the market. This app is so great and easily helps you to bypass any Google account or any other kind of account. This app is used by a lot of people and they surely love using it. The app is so popular among people that they use it very much on their devices. The app has lakhs of downloads and people like it so much. Go and download the app now and enjoy bypassing different accounts. Our website is totally safe and secure to use. If you have any kind of query or problem then you can comment below or directly contact us by visiting contact us page.
Alternatives to vnROM Net bypass APK:
vnROM Net bypass APK has lots of alternatives to it. As every app has there alternative so this app also has some famous alternatives that we will discuss one by one:
Samsung Reactivation:
Samsung Reactivation is a great tool that works online. If you have a Samsung device then this app is fully made for you. If sometimes you forget your Id and password, you don't need to do anything like bypassing your device or anything else. Simply open the Samsung Reactibvatiomn website and enter some detail of your mobile phone like – model name and IMEI number. After entering these details click on unlock now and after following some steps you are good to go. Samsung will send you a unique ID and password to unlock your phone. It's that simple.
FRP Bypass Solution:
FRP Bypass Solution is also a very good tool. It works on all android devices. You don't need to worry about anything about this tool because it is a tested tool. You can use this tool anywhere at any time. Also, You got to know a very important thing about this app that it is a paid app. You can't access it fully without paying for it. It cost $7 to buy all the features of this app.
D&G Unlocker Tool:
This app is also a very good tool for your device. It supports most of the famous company devices. You can install this software on your PC or laptop. This tool is totally free and does not charge any money from you both internally and externally.
Pangu FRP Bypass:
Pangu is a great tool that you can use to bypass your device. This tool comes with lots of features and it takes only a few minutes to complete the process. It also supports all the famous brands so you can use it for your device. You need an OTG cable connected to a PC/laptop or a Pendrive. After that, you can perform the task by using the tool. This tool is also free of cost.
Conclusion:
The app is used to bypass different google accounts. At this time sometimes it's hectic to go through different processes to sign up in different apps. FRP vnROM net bypass helps the user to bypass those sign-ups easily with a single click. You just need to download the app and set up it. Most of the time we don't want to share or give permission to our personal information. You can also get rid of this stuff easily with the help of this app. This app is totally safe and secure to use and works fine on every device. You can use it on your mobile phone or PC and skip the log-in process and get rid of different locks in the app.
This app works on any device. As you have seen most of the app in the market support only one type of device and if you want to bypass any other device then it will not support them. VnRom is good because it works fine on every device in the market like Samsung, Vivo, Oppo, Etc.
If you are willing to bypass your device then what you are waiting for go and download the app from the link given in this article. Install the app and start to do your first Bypass. Break every lock and remove all unnecessary login parts.
Download the app and enjoy the different features. If you want to download Torrent Search Engine then click on it.
Our Website provides you the safe and secure apps that are personally checked for viruses and malware and then these apps are uploaded here. So, don't get afraid before downloading any app from here. Feel free to contact if you have any problem regarding any App or website. You can also comment below for any query or feedback.