Calories Counter Apps: In today's world, being healthy is the most important factor. Everyone wants to be healthy. Pollution is increasing, different viruses are arriving, everything is getting worst. So in this time taking proper diet and maintaining your nutrient cycle is so important.
What are Calories?
Calories are basically a unit of measurement. It is a unit of energy. Many of us don't know about calories and most of the time we ignore it, but calories are the most important factor in gaining and losing weight. Calories are defined for everybody's body differently. You are marked up at some calories at which if you will take more calories then you will gain weight and if you will take fewer calories then you will lose weight.
For example – let us assume that you need 1000 calories to maintain your current body weight and you want to increase the weight so you have to increase your calorie consumption (1300-1400). The same goes for losing weight, you have to lower down your calorie consumption (600-700).
Calories Counter Apps to track your daily calories
Keeping track of your calories is easy nowadays. You can track your calories by using different Apps and Websites. Everything is already fed in the app like calories of different food. You can also set it according to you.
Feeding daily calories on these apps are easy. You just search the food which you have eaten, select the quantity of the eaten food and you are all done. It also counts different nutrients for you.
Many of the apps are free to use and some require a paid subscription. You can choose the app according to you. All app is available for different device (IOS, Android). You can sign up on these apps by adding your details like weight, height, etc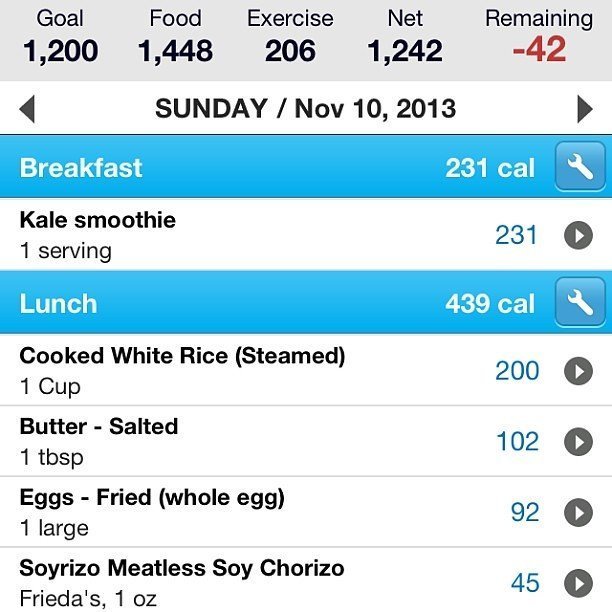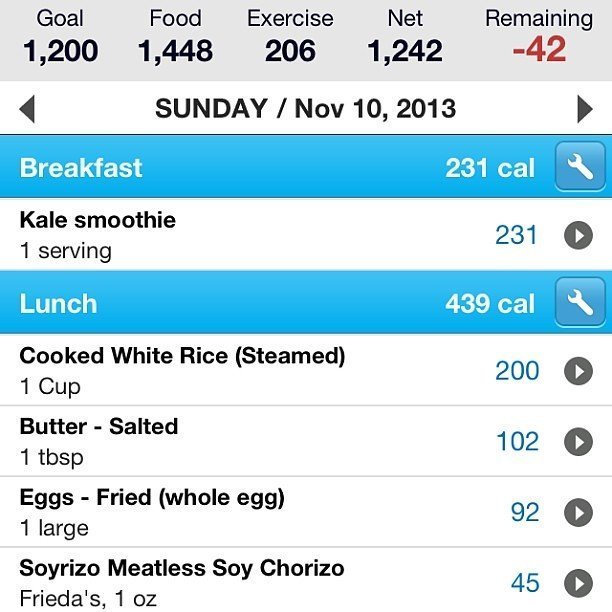 In my opinion My FitnessPal is the best calorie counting app. It does not charges any money for counting calories. If you want an personal trainer or diet from this app then you have to spend some money and take plan according to your need. You can sign up on this app for free, fill some details and start counting your calories. It have every food fed in it you just have to choose what you have eaten. Millions of people have gained and lost weight by using this app. 200 million+ pounds have lost by more then 88% of people who have tracked their calories for at least one week on MyFitnessPal app.
50M+ people have downloaded this app and rated 4.4 on google play store. Millions of people track there calories on daily basis.
Features of MyFitnessPal:
Let's see what makes this app to be on the top chart in calories counter apps:
Track food fast and easily:
This app has millions of food database, including every item globally.
You can also log menu items of different restaurants and from one of your favorite restaurant.
Scan the barcode of different food and get the details of that food. This app recognizes millions of barcode.
You also get an option from where you can see recipes of different foods either to gain weight or to loose weight.
You can also import the nutrients of the recipe you are cooking at your home.
This app automatically counts the calories of every food or you can make your own cooking recipes and count your calories according to you.
You can also track you daily water intake. You can also set a water reminder if you bad habit of forgetting to drink water.
Reaching Goals is Easy:
MyFitnessPal made it easy to reach your goal fast and easily. Choose your goal and start following it. You can choose any type of goal according to your requirement like weight gain, weight loss or to maintain the weight.
Goal can be set to any of the point. You can choose your point like how much weight you want to gain or loss. Leave rest of the work for this app. It identifies everything and makes a chart according to it. Take calories and nutrients as shown by this app and reach your goal fast.
Feel like you are having a coach with you in your smartphones. You can also get diet plan or personal training on paid plans.
Track Your Steps and Exercise:
You can connect different types of devices to it like Fitband, pulse counter, etc. Sync your steps and workout easily and automatically.
You can also set your workout on this app by choosing different exercise shown by the app. Connect to your favorite device and start hustling.
You can also set your daily steps to reach your progress daily by the app reminder.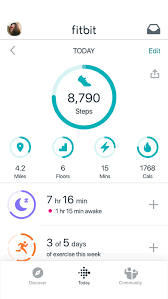 Fitbit is an app where you can track your daily food intake and activities. You can start with 90 days free trial of Fitbit premium given by this app. In this premium plans you get more features like customized health plans, personal guidance, hundreds of videos for workouts that you can do in home or gym.
Fitbit is the largest growing company in the work. From its app to fitness equipment it has made a huge growth. You can this app and start counting your calories by today itself. Track your calories, stay it and stay motivated. You can also buy a Fitbit band, smartwatch or many other products to track your activities like workout, steps count, sleep, etc. Fitbit is a smart app and contain millions of food record. You can track your calories easily by using this app. Think smartly, work smartly.
You also get diet plans, personal guidance, different recipes and much more. This app is a complete package of your health goals.
Features of Fitbit:
Let's discuss its features:
Main features of this app:
You can use Fitbit for free at a certain level. You can track your calories, you can see your progress, you can find different nutrition programs, workouts, sleep tools and much more for free. Remember that every program and workout videos are not free.
You can also share your stats with your friends or you can challenge them to compete with you and make an encouraging society for fitness.
This app has millions of food logs by which you can fill your daily food intake easily. You can also set your water intake with a reminder.
Fitbit allows you to set your goals and start working on it. It also gives you different achievement badges and celebrates milestones.
You can set any fitness device to this app. It helps you to track data from every device. Fitbit also have their own fitness product, you can go with them also.
This app also has different videos and plans with the help of which you can workout from your home.
You can track your sleep for healthy lifestyle. When you woke up, when you slept everything will be recorded to maintain your routine.
You can listen to different audio tracks in it to decrease you stress level.
Fitbit Premium:
Fitbit premium gives you more features. This monthly and annually plans opens many features. You gets a audio and video workouts, audios to manage stress, different programs, etc.
You can play through Paytm, Google pay. The app will start charging money from you after completion of 90 days free trial.
You can set your plan automatic payment or manual playment. Automatic payment will renew your plan 24 prior to the current plan.
You can also get personal guidance from the experts to reach your goals even more faster.
Lose it is the fitness application in which you can track what you eat , you can follow a chart of calorie, Whatever your goal is you can reach them easily. With the help of this app you can easily reduce your weight. You can easily calculate your food.
In this app, there is a in-build instructor and this instructor will ask you some question then according to that it will give you plans like how much you need to gain or lose , it will provide a goal date, it will provide you that how much you have to take the calories and at the same time it will ask you that how much do you walk in one day.
It will suggest you everything like what you have to eat and how much you need to drink a water per day. This app will show your daily progress in the face of statistics.
Features of Lose IT:
You can track your food intake calories easily by using this app. This app has millions of food data fed in it. You just have to fill the food eaten by you and feed in it by searching the food by its name.
This app also has a option to scan barcode of different food and get details of them easily and you can see every nutrients detail in brief like carbs, macro, calories, etc.
You can also get log of the food by simply taking pic of the food. You have to open the camera in the Lose IT app and you are ready to go.
This app supports different types of devices. You can connect any device to it and start tracking your daily activities like steps, workout, heart rate, monitoring sleep, etc.
Besides calorie tracker, you can also track different types of nutrients and activities like protein, macro, sugar, water, carbs, body measurements, sleep cycle, workouts, running, and much more.
You can challenge your friend or yourself by doing weight loss, eating healthy diet, doing exercise with the help of this app.
You can also get different recipes on it and you can also feed your recipes for faster tracking of your food intake. This app provides you different types of recipes for keto diet, to gain or loss weight, vegan diet, etc.
Start doing the workout with the help of this app. This app provides you different types of workout videos which you can do in your home or at gym.
This app is of small size and works fine on every device. It does not requires any specific configuration on your device.
 4. Calorie Counter – MyNetDiary, Food Diary Tracker (Get The App)
It is the Calorie counting app that helps you to reach your weight loss goal. This is specially designed for you to lose your weight in a exciting manner. You can also name it as 30 days weight loss challenge application. In this what you need to do is just share your goal plan, height, weight, etc. This app will help you ro reach your goals in just 30 days. This is kind of tracker , it takes the input and show you the output. This app will tell you what to eat, how to eat and when to eat. It will show the eating hours according to your need. It keeps a record of your daily progress.
If you want to know that how much calorie you have eaten in a day then this app will help you to calculate that , Just you have to take a picture of the food item or you can do one more thing You can add the quantity of the food item then it will show you the calorie percentage or in numbers. Sometimes we don't know what to eat and how to eat but this app will give you the right information like you will get to know the right mixture of food to meet your target diet plan easily.
Features of Calorie Counter – MyNetDiary, Food Diary Tracker:
Let's discuss its features:
Now it is easy to gain or loss weight by using Calorie Counter App. Its easy sign up makes it better. You have to fill details like body weight, height and set your target after that you are good to go.
You can also set a date for your goal to stay more motivated and focused.
Track your daily meals calories, your workout, steps and much more by using this app.
This app also helps you to reach your goals by telling you different workout plans, recipes and much more.
It also has a option to remind you whether you are on your target or not. This app checks your daily activities and tells you about it after analysing it.
This app has a massive food data. You will get any type of food logs in it. Just search for the food and start filling. You can also set your recipes by adding the stuff you have used to make it.
This app is highly customizable. You can easily set different things according to you.
Besides these many features you also gets a barcode scanner features with the help of it you can easily get the entry of the food nutrients and calories for fast entry.
You can also track different things like heart rate, diabetes, blood cholesterol, blood pressure and much more by using this app.
It has sleek and simple design which makes it more user friendly.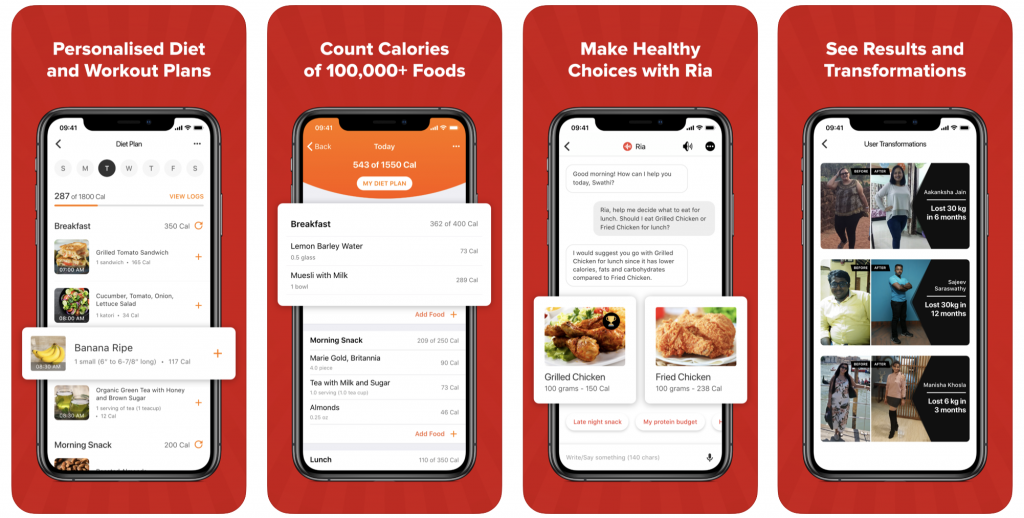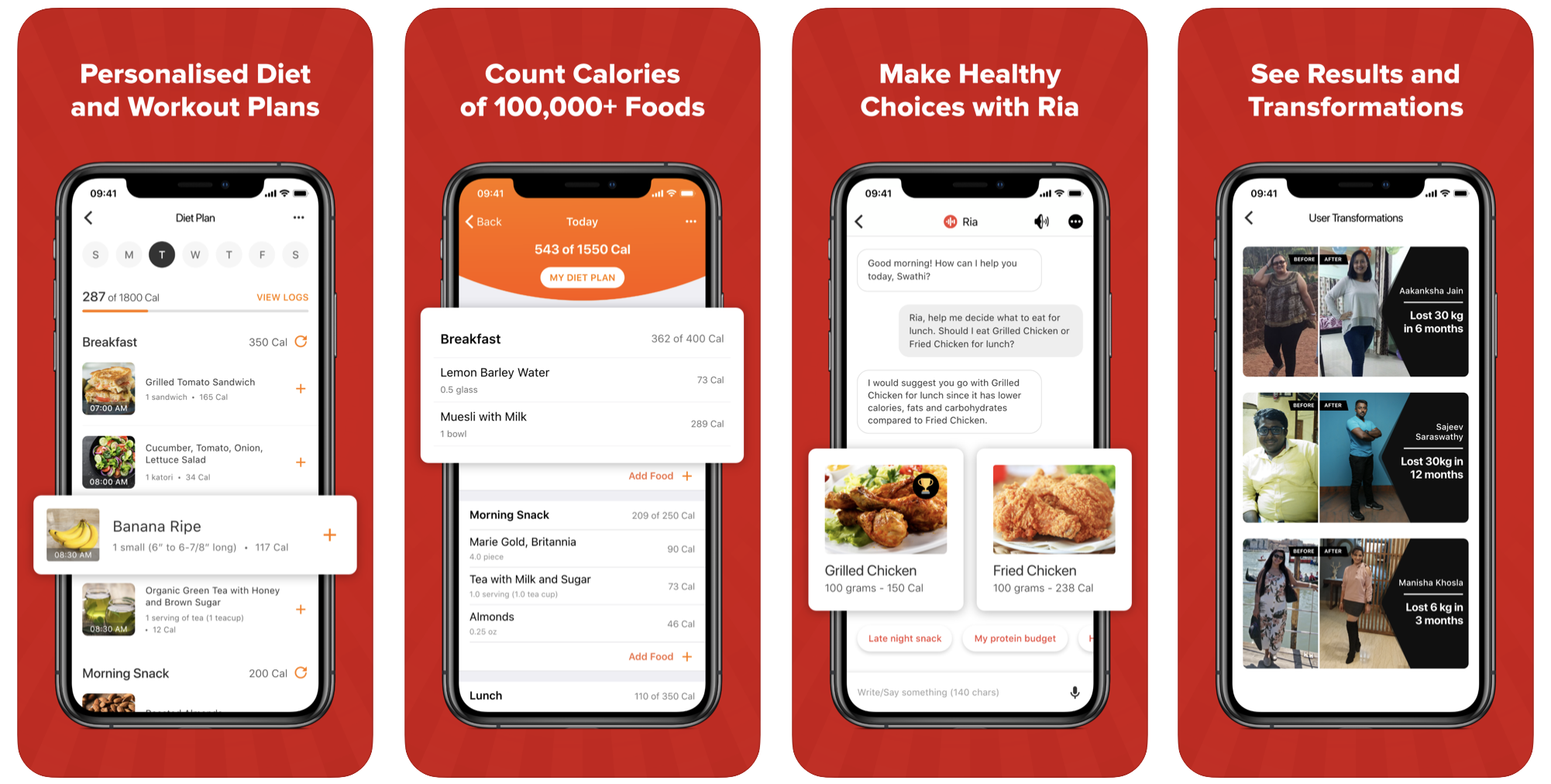 HealthifyMe comes in the application of best food tracker, water tracker, sleep tracker etc. You don't need any equipment for workout because this app will tell you the easy and affordable exercise at home. In this app, you can see any type of exercise, it means if anybody wants to do yoga like stretching and breathing practice then they can easily see in this app and if anybody wants to do workout like abs , belly fat, legs, chest, shoulder, quads anything then they can also see in this app.
It gives you live session on how to do exercise correctly. This can be fun, you can share this with your family and friends.
You can do these exercise with your family and can participate in daily challenge. 30% Is depends on your exercise and 70% is depends on what you are eating. That means It has a instructor to ask you everthing like are you taking the correct meal in a correct time. You can track that things in this app, it will show you that when to eat , how to eat , It has a in-build calculator to count your calories. Track your fitness with the help of given charts. You can easily compare your present day and previous days with the help of this application.
Features of HealthifyMe:
HealthifyMe is loaded with lots of features, let's discuss them one by one:
HealthifyMe is an easy setup app. You can easily sign up and set your goal by filling up some mandatory details.
This app can help you to loose, gain or maintain your bodyweight according to the targeted goal set by you on this application.
The app helps you to lose weight with its personalize diet chart and meal plan created by this app. It makes diet chart according to the details filed by you. It calculates your health data and BMI and helps you to know what your body exactly needs.
The diet created by the app is full in nutrition, helps you to build your immunity and also helps you to reach your goal faster.
Fill the food eaten by you in the calorie counter. It has a vast number of food record in it. You can also click the photo of the food and the app self analysis the food and quickly adds it to your daily calorie chart.
Start filling your daily food intake into this app. Make a habit to count your calories daily. This will surely help you to reach your goals fast.
This app has best nutrition counting capability. It counts the best nutrition of your food and helps you to reach your goals.
The best thing in this app is that you can get any type of suggestion 24×7. Get instant answer, suggestions etc with the first world AI. The AI is connected with the 200M+ food and gym logs.
The app supports every fitness device. Connect any fitness device to it and start getting its log on this app.
You can also go premium to connect with your personal coach, dietician, and many more. It also helps you to mange your health conditions like diabetes, thyroid, blood pressure, etc.
Final Words for Calories Counter Apps:
The above mentioned calories counter apps are personally tested by me. I have done a lot of research on these apps before writing about them. Personally I like MyFitnessPal the most. You can choose according to your need. These above mentioned apps are good in calories counting. You just need to install any one these app and start filling by some details. Set an goal and keep hustling.
These apps can help you to gain weight, loose weight or to maintain your current weight. You gets a millions of food logs in those apps. You can also take a recipe or meal plan from these apps. They also provides you different workout videos which you can do at your home or at gym.
Go and download the app from the given links and reach your goals in a easy and fast way.